Product Description
The fischer injection anchor sleeve FIS H K is the system component for the professional, mortar-saving installation of the threaded rod FIS A or internal threaded anchor FIS E in perforated brick masonry. The fischer injection mortars FIS V, FIS VW HIGH SPEED, FIS VS LOW SPEED, FIS VL, FIS GREEN, FIS P Plus, and FIS P can be used with it. The optimised grating structure reduces the use of injection mortar. When the threaded rod and internal threaded anchor are installed, the mortar is pressed through the grating structure and creates a form fit with the perforated brick. This directs the load into the building material. Setting takes place in a pre-positioned installation. You can use the injection anchor sleeve to bridge non-load-bearing layers. The approvals of the various injection mortars must be observed.
Advantages
The grating structure of the FIS H K anchor sleeve is adapted for the injection mortars FIS V Plus,FIS V,FIS VL, FIS GREEN and FIS P Plus, and ensures sparing mortar use with the best interlock.
The centring blades perfectly align the anchor in the anchor sleeve, and allow for use with various threaded rod diameters.
The barbed hooks secure the anchor sleeve in the drill hole and allow for a trouble-free overhead installation.
The geometry of the anchor sleeves allows for the bridging of non-bearing layers for a simple and convenient installation.
Applications
Anchorings in perforated brick masonry with injection mortars FIS V, FIS VL, FIS P Plus, FIS P, and FIS GREEN

Functioning
The system can be used with any of the following injection mortars:FIS V Plus, FIS VW Plus High Speed, FIS VS Plus Low Speed, FIS V, FIS VL, FIS GREEN or FIS P Plus. FIS P can be used but does not have approvals.
The system is suitable for pre-positioned installation when combined with injection anchor sleeves and threaded rods FIS A or internal threaded anchors FIS E.
The anchor sleeve is placed in the drill hole, and filled with injection mortar from the anchor sleeve base.
Turning in the anchor causes the mortar to be pushed through the anchor sleeve's grating structure, so that it fits the base material perfectly. The load is borne by the interlock.

Building Materials
Approved for:


Vertically perforated brick
Hollow blocks made from lightweight concrete
Hollow blocks made from concrete
Perforated sand-lime brick
Solid sand-lime brick
Solid brick

Also suitable for:

Hollow pumice slabs
Slabs made of hollow brick and other perforated brick
Solid pumice and other solid building materials

* You can find detailed information on building materials in the registration document
Permissions
| | |
| --- | --- |
| ETA-10/0383 | DoP No. 0189 |
| ETA-11/0419 | DoP No. 0195 |
| ETAG 029 | DoP No. 0126 |
| ETA-14/0471 | DoP No. 0026 |
| ETAG 029 | |
| ETA-15/0263 | |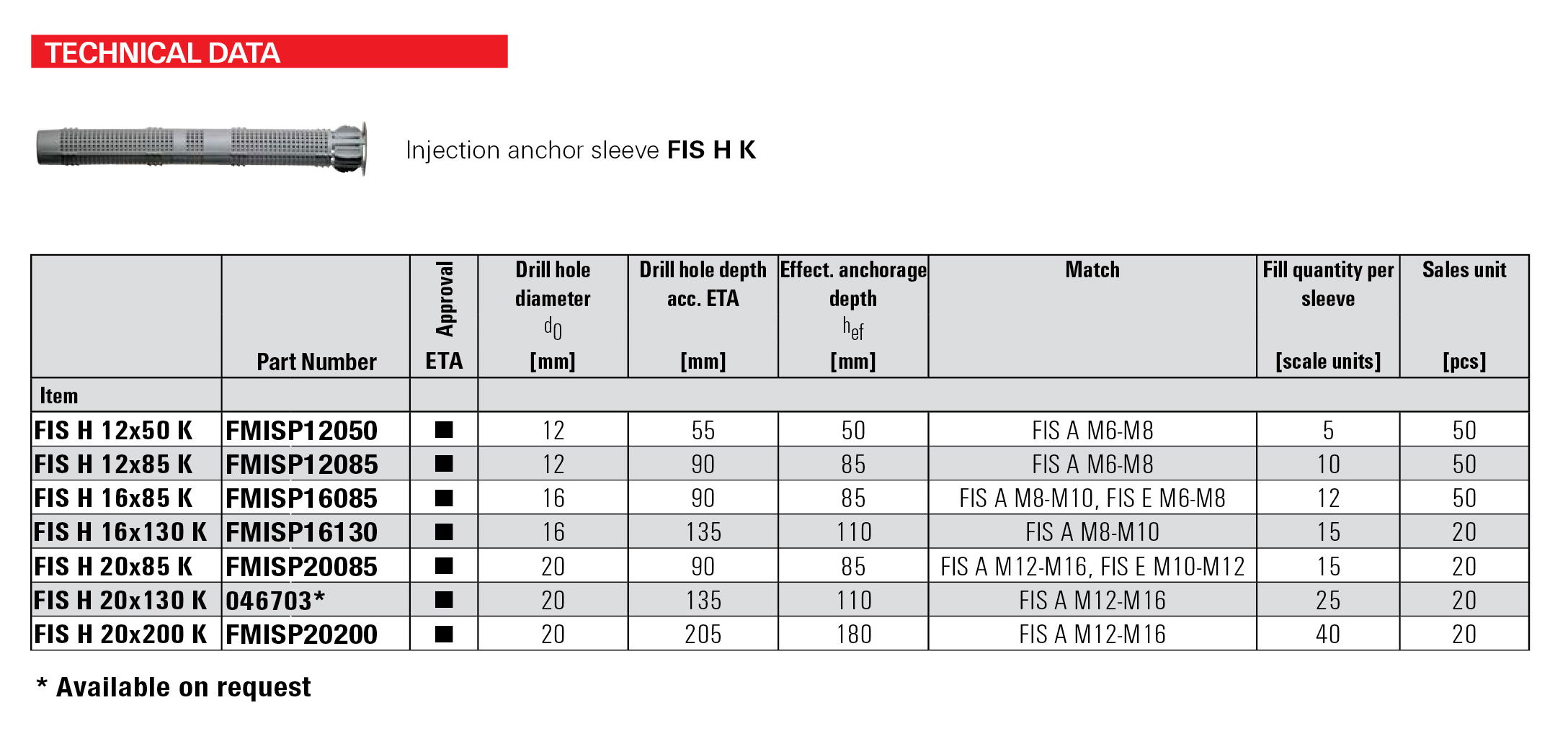 Approvals For Download