Product Description
The Fischer DUOPOWER is an intelligent 2-component plug with three product functions. The intelligent universal plug is suitable for fixing in all building materials. This allows a variety of applications with just one plug. The Fischer DUOPOWER adjusts itself automatically to the building material and transfers the highest loads through the three product functions of folding, expanding and knotting. The very good feedback from the plug when screwing the screw in generates extra security. The Fischer DUOPOWER 6 x 50, 8 x 65 and 10 x 80, because of the larger anchorage depth, are particularly suitable for fixings in hollow building materials, aerated concrete and for bridge plaster.
Advantages
Two component materials for top load values and intelligent functioning depending on the substrate.
Great feedback (feel-good factor) of the plug. You can feel exactly when the plug is installed perfectly.
The short plug length ensures fast fixing without deep drilling.
The narrow plug rim prevents slipping into the drill hole.
The serrated anti-rotation feature prevents rotation in the drill hole during installation.
The greater anchorage depth of the DUOPOWER 6 x 50, 8 x 65 and 10 x 80 means that the plug is especially suited to fixings in hollow building materials, aerated concrete and to bridge plaster.
Applications
• Skirting • Cable ducts • Pictures • Decorations • Soap dishes • Toilet paper holder

Functioning
The UX with rim is suitable for pre-positioned installation.
Turning in the screw causes the UX to expand in the solid building material and to knot within the cavity.
The required screw length is given by the plug length + fixture thickness + 1 x screw diameter.
Suitable for wood and chipboard screws, as well as stud screws.
In the case of board building materials, the threadless part of the screw must not be longer than the fixture, and the UX with rim is to be used.
The edge distance must be at least one plug length.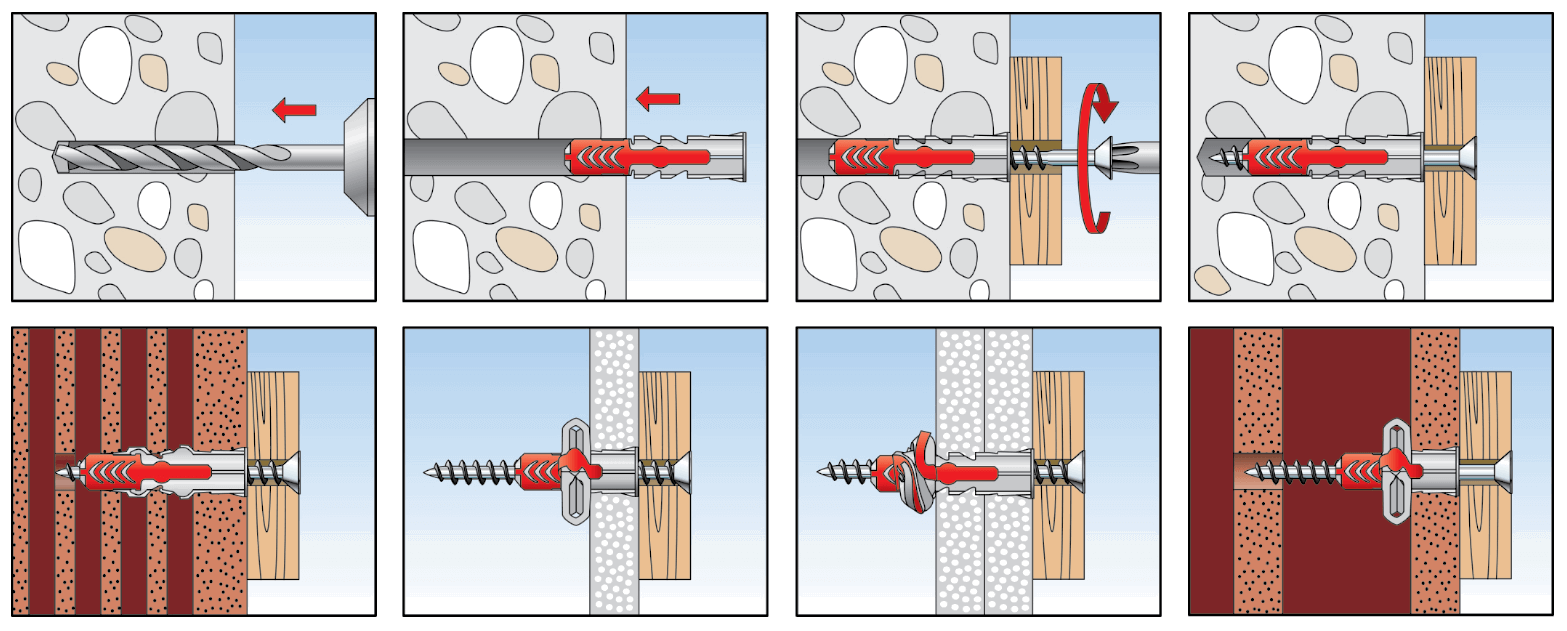 Building Materials
Concrete
Gypsum plasterboard and gypsum fibreboards
Vertically perforated brick
Hollow blocks made from lightweight concrete
Cavity floor slabs made from bricks and concrete
Perforated sand-lime brick
Solid sand-lime brick
Natural stone
Aerated concrete
Chipboard
Solid panel made from gypsum
Solid brick made from lightweight concrete
Solid brick



Documents For Download