Product Description
The fischer concrete screw ULTRACUT FBS II 6 M8/M10 is made of zinc-plated steel with hanger bolt (M8/M10-outer diameter). The ULTRACUT FBS II 6 M8/M10 is perfectly designed for applications like fixings of pipe routes, channel systems, ventilation ducts and facilities in the building service engineering. When the concrete screw is screwed into the drill hole using an impact driver, the thread flanks cut deep into the concrete, thus ensuring top load-bearing capacity. The low drilling effort saves time in the case of multiple fixations. The European Technical Approval for cracked concrete and non-cracked concrete as well as for seismic loads and classification into fire resistance class R 120 guarantee even more safety.
Top Features
With up to 3 embedment depths, it allows for the same screw to be used for different component thicknesses.
The special saw tooth geometry enables fast cutting into the concrete.
The approved adjustment for the concrete screws allows the screw to be unscrewed twice to align the attached part, and then to tighten the screw again.
Advantages
Maximum flexibility with regard to load and fixture thickness due to up to two approved embedment depths.
The special saw tooth geometry enables fast cutting into the concrete.
No drill hole cleaning is required for installation in ceilings or floors, or use of hollow drills with suction.
The expansion-free anchorage (undercut) ensures really low edge and axial clearances.
The ETA approval covers applications in cracked concrete and seismic power categories C1 and C2.
Approval-compliant adjustment allows the concrete screw to be undone twice and the fixture to be underlaid or adjusted.
The national approval allows multiple usage for temporary anchorings (for example, formwork construction).
Applications
• Structural steel profiles• Guard rails • Temporary anchoring, e.g. of building site equipment • Consoles/Base plates • Metal profiles • Shelving systems • Protection barriers • Form Work • Shuttering props
Functioning
The ULTRACUT FBS II is recommended for the push-through installation.
Drill holes do not need to be cleaned during vertical installation (ceiling and floor). For floor fixings the hole must be drilled 3x drill hole diameter deeper.
We recommend using a tangential impact screwdriver with a suitable impact screwdriver socket or an internal torx drive.
The screw is installed correctly when the screw head sits flush on the fixture and cannot be screwed in deeper (visual setting control).
Building Materials
Approved for:

Concrete C20/25 to C50/60, cracked and non-cracked

Also suitable for:

Concrete C12/15
Solid building materials
Masonry with a dense structure
Permission
| | |
| --- | --- |
| ETA-15/0352 | DoP No. 0146 |
| DoP No. 0078 | Z-21.8-2049 |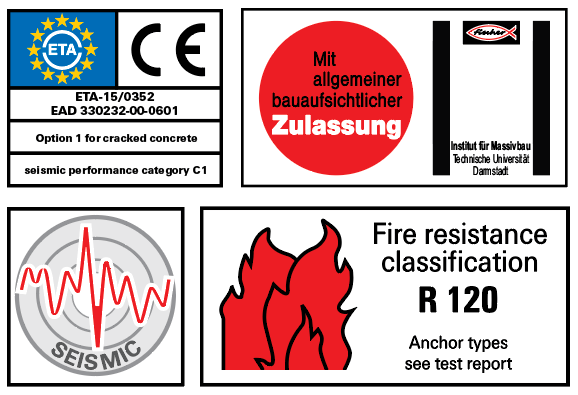 Approvals For Download
FBS_II_6_ETA_ASSESSMENT_18_0242_FOR_REDUNDANT_NON-STRUCTURAL_SYSTEMS.pdf